There are a lot of features of the all new Android 10 which was first called Android Q. Android 10 is the 17th version of the android OS family. It was released on September, 2019. This article list and explain top 15 features of Android 10.
Live Caption
The feature is the Live caption of a video. You can caption a video whiles the video is playing on the new Android 10. All you have to do is start playing the video then press the volume button the is a caption button just beneath the volume that appears on the screen. Just tap on it and start giving a caption to the video.
Smart Reply
Smart reply is just link what is in LinkedIn messages. When someone sends you a message then automatically LinkedIn gives you reply suggestions to help you reply the person. In Android 10 Smart Reply does more than just reply suggestions. It goes beyond to give you location suggestions by pulling up Google maps if the reply to the message demands locations.
Sound Amplifier
Sound Amplifier enhances audio from your Android device using headphones to provide a more comfortable and natural listening experience. Use Sound Amplifier on your Android device to filter, augment, and amplify sound in the real world. Sound Amplifier makes audio clearer and easier to hear. It works by increasing quiet sounds while not over-boosting loud sounds. With 2 simple sliders, you can quickly customize sound enhancement and noise reduction to minimize distracting background noise.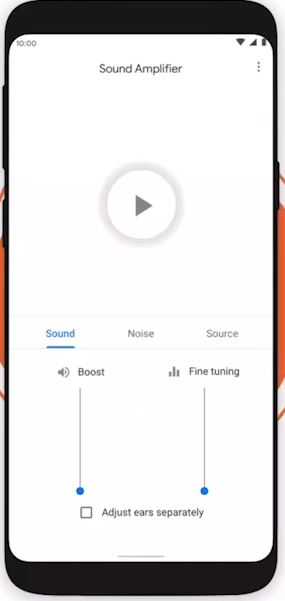 It is also available at the Google Play Store for downloads. If your device is Android 6.0 upwards you qualify to download sound amplifier app.
Features
• Boost quiet and reduce loud sounds around you and on your device.
• Carry on conversations in loud environments.
• Personalize your listening experience by adjusting audio or microphone settings with the simple tuning UI.
• Reduce unwanted or distracting noises.
• Audio visualization – helps you visualize audio.
• Now available for devices with Android 6.0 and later.
To start using Sound Amplifier, plug in wired headphones (required) then go to Settings > Accessibility > Sound Amplifier.
Gesture Navigation
Another feature of the Android 10 is the gesture navigation feature. This allows you to use swipes and pull ups to navigate your way through your android phone. You can use swipes and gestures to go back, go to the home screen and access Google assistant.
Dark Mode
Dark mode feature is the feature that most Android phone lovers have been waiting so long for Google to introduced and Android 10 comes with this theme. You can switch to dark mode and your whole device will be in the dark mode.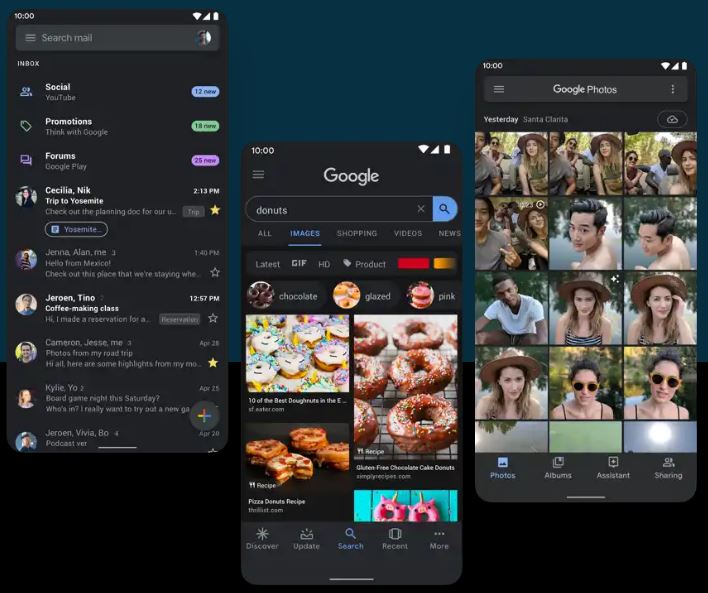 The dark mode is a feature that protects the eyes and also keeps your phone battery alive for a longer period.
Go to Settings > Display and then tap Theme
Tap Dark and your phone will switch to dark mode
Privacy and Location Controls
With Android 10 you can control your privacy because all your privacy settings can be found in one place called Privacy. You can adjust all your privacy settings to suit your need.
You can decide what data is store and for how long the data will be stored. You have the ability to control which app sees your location an you can decide to opt out or in to any re-targeting or personalized ad.
Security Updates
Updates are very important when it comes to smartphones. In Android 10, Google says you'll get security update faster and easier. With Google Play system updates, important Security and Privacy fixes can now be sent directly to your phone from Google Play, just the same way all your other apps update. So you get these fixes as soon as they are available.
New Emojis
Emojis are fun and exciting ways of expressing ones emotions or feelings. Chatting with emojis makes you feel comfortable even without words. Therefore emojis are very important. That is why Android 10 introduces 65 new emojis, including gender-inclusive designs for emoji like haircut, weightlifting and sauna.
Share WiFi via QR Code
QR Codes are now becoming popular in the western world. The Asians use QR codes in their daily lives for receiving payments and also for paying bills. Google have seen the need to introduce QR code feature into the new Android 10 to make it possible for you to share WiFi with your friends and families.
Now, you can share your Wi-Fi details with guests via a QR code while keeping your password secure.
Contaminant Detection
Wondering why your USB is not working when connect to your computer? It might be contaminated. Android 10 is able to detect if moisture or debris is in your USB port If this happens a notification will be sent to you and accessories will not function.
Android Auto
Another great feature which is part of the features of Android 10 is the Android Auto. Android Auto was is an app that helps you connect your phone to your car to ease in driving and using your phone at the same time. Now no need to download Android Auto, because in Android 10, it comes built-in. You can simply plug in your phone and start using Android on your car's display.
Family Link
With the high rise use of smartphones and internet, parents needs to check their children and be able to set controls on the kind of things they do on the internet and the time they spend on the internet. This feature of Android 10 helps parents to check their children and also help them study well.
You can set screen time limits, manage what content they can see and even access their location whenever they are out.
Focus Mode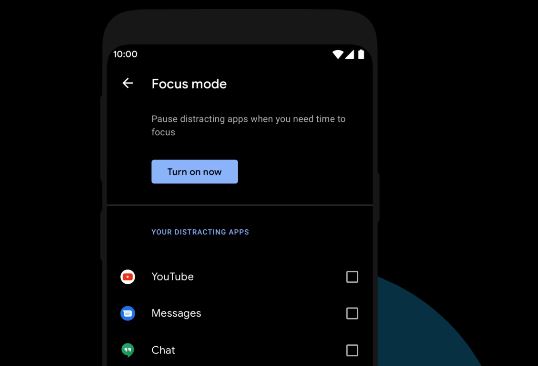 This feature is to help you concentrate whatever thing you are doing with no distractions from your phone. So when you set your phone to the Focus Mode, you can select apps you want to pause or turn off an app which is destructive. You can turn it on whenever you are ready. The am is to help you focus on what is in front of you.
Site Timer
Another great feature among the features of Android 10 is the site time feature. This feature helps you to know how much time you have spent on a particular website or app. It regulates your life so you don't spend all your time on a gaming app only to realized you have spent your whole day just playing game. This feature and other features like focus mode, family link all come together to form the digital well being dashboard.
Hearing Aid Support
Android 10 now has built-in support for streaming media and calls directly to hearing aids. Using bluetooth low energy so that you can stream all week.
Read also