COVID-19 partial lockdown in Ghana was lifted yesterday 19th April, 2020. The president of Ghana announced to the citizens of Ghana that the partial lockdown in Accra and Kumasi has been lifted. This move by the president has brought about some argument and discussions among some Ghanaians. Some are saying this is a bad move and others too are saying this is the right move.
Why is the COVID-19 partial lockdown lifted?
Ghana is has taken drastic measures in dealing with the spread of CoVID-19 ever since first two cases were reported. In the president's address, Ghana is ranked number one (1) in Africa in administering of tests per million people.
Ghana has in the past month till now traced 86,000 contacts, out of which they have test results of 68,591 contacts.
Out of the number tested 1,042 persons representing 1.5% have been confirm positive with 98.5% testing negative.
Out of the 1,042 persons, 99 have recovered and have been discharged and the other 930 persons are responding to treatment.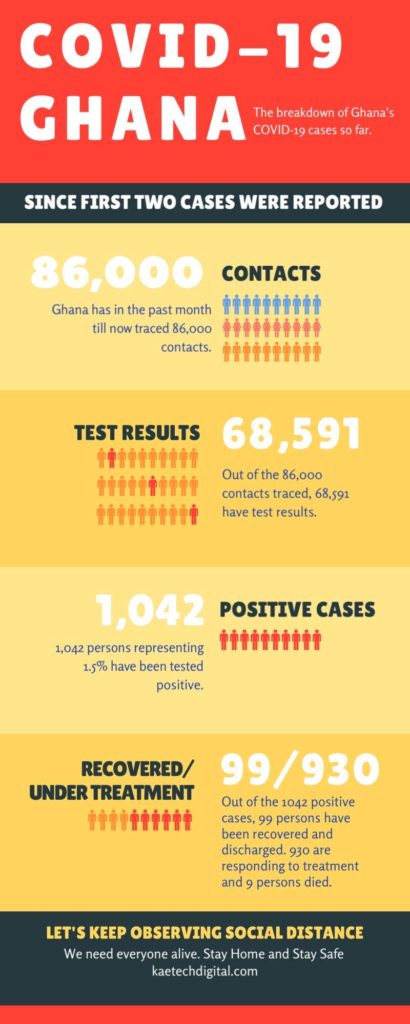 "In view of our ability to undertake aggressive contact tracing of infected persons, the enhanced capacity to test, the expansion in the numbers of our treatment and isolation centers, our better understanding of the dynamism of the virus, the ramping up of our domestic capacity to produce our own personal protective equipment, sanitizers and medicines, the modest successes chalked at containing the spread of the virus in Accra and Kumasi, and the severe impact on the poor and the vulnerable, I have taken the decision to lift the three (3) week old restriction on movements in the Greater Accra Metropolitan Area and Kasoa, and the Kumasi Metropolitan Area and its contiguous districts, with effect from 1am on Monday, 20th April, 2020″.  

President of Ghana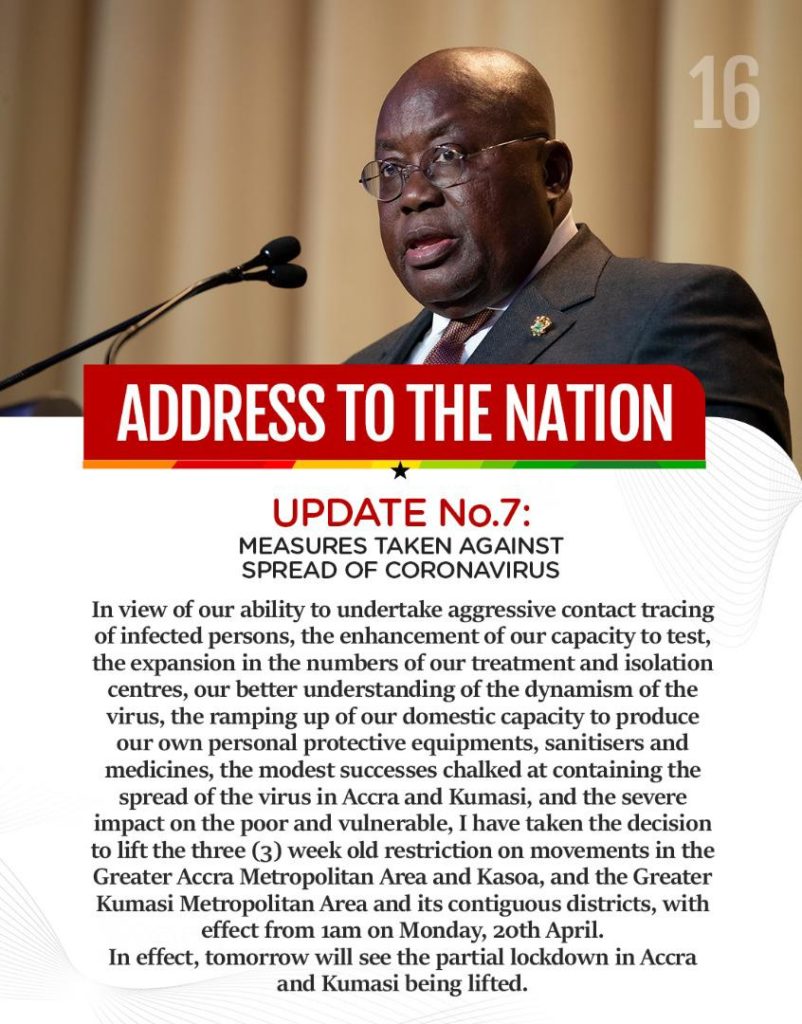 What does this mean?
The partial lockdown is lifted and workers and businesses can start working and serving people as they do always but there are still restrictions in certain things. The president of Ghana made it clear in his address that, all measures to help stop the spread of the virus are still in effect and will be seriously monitored.
"lifting these restrictions does not mean we are letting our guard down".

President of Ghana
Earlier measures announced on Wednesday, 15th March 2020 are still in force and have not been relaxed.
Suspension of all public gatherings, including conferences, workshops, funerals, parties, nightclubs, drinking spots, beaches, festivals, political rallies, religious activities, and sporting events.
All educational facilities, private and public, are to remain closed.
The lifting of the restrictions does not sink down well in the minds of some Ghanaians. Some are complaining that why lift the restrictions to allow parents to return to work but children are supposed to be in the house, who will take care of our children?
What do you think? Is this a step in the right direction? Leave a comment below.
Read Also